Satellite Image of the month – February – Italy, Venice
---
Venice, Italy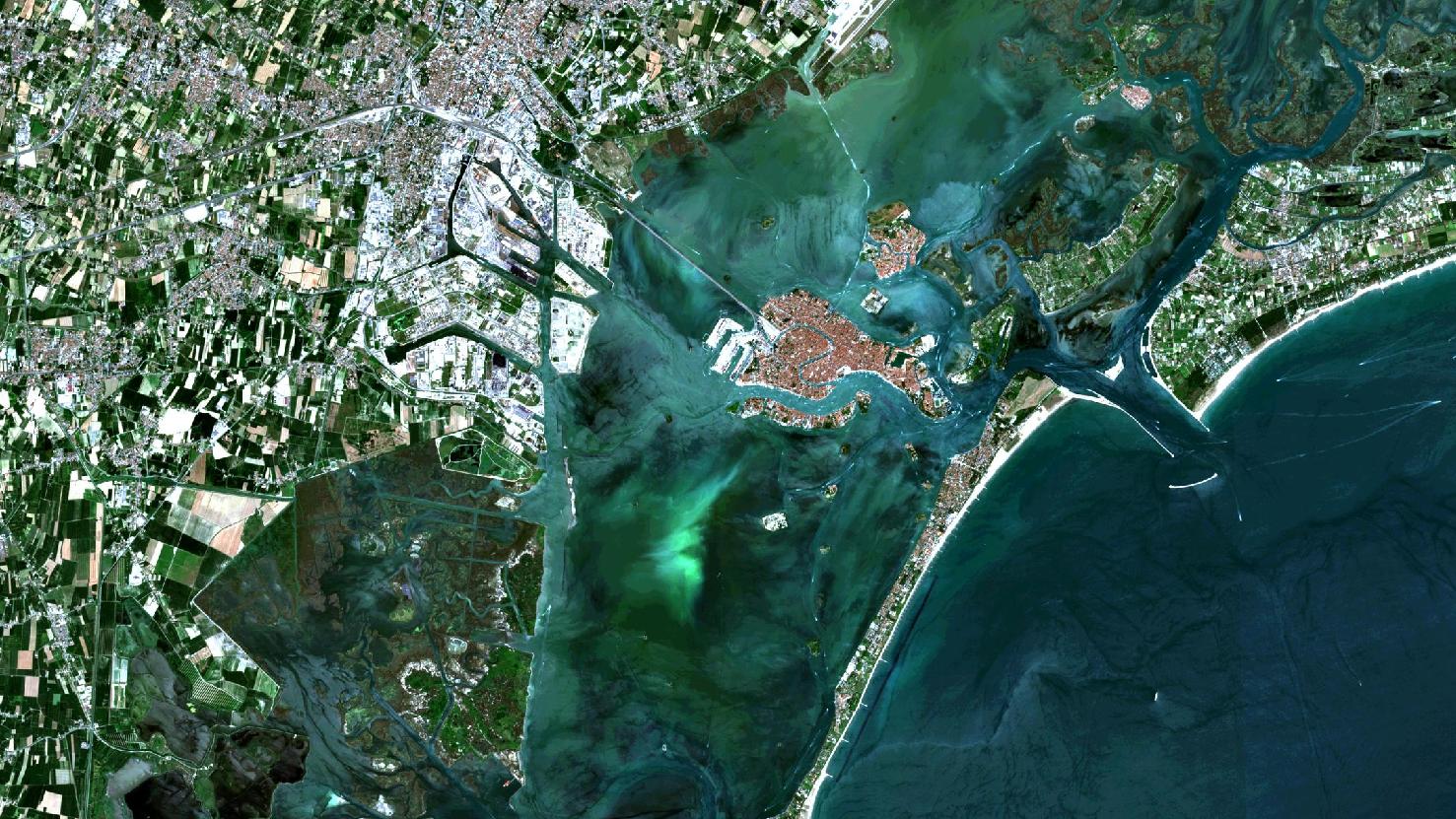 The satellite image of the month February shows a true-colour-composite of the european cultural metropolis and the UNESCO World Cultural Heritage Site of Venice at the Adriatic Sea. The image was created from different bands based on Sentinel-2A data from the EU Copernicus program and provides a resolution of 10 metres.
The historical centre of Venice, which is only connected to the mainland by a single bridge "Ponte della Liberta", is clearly visible in reddish shades. In fact, a much larger part belongs to Venice: The island "Lido de Venezia", which is situated in front of the historical Venice in elongated form, all islands which are situated in the lagoon around Venice, as well as a large part on the mainland. On the satellite image, the mainland area is coloured in white and grey.
Between the peninsula of Lido, which attracts mainly bathing guests because of its exposition and the mainland arm of the lagoon, called Cavallino, lies the "entrance gate" to Venice, flanked by two lighthouses. This is essential for the numerous boats, ships and cruise ships that sail to Venice. The former importance of Venice, one of the largest trading cities in Europe until the 16th century, is also evident here. On closer inspection, the world-famous "Canale Grande" can be easily identified, which flows like a snake through the historic Venice. Numerous of smaller channels flow between the historic buildings, some of which date back to the 15th century.
In the winter months, the lagoon city often suffers from the phenomenon of a low water level, which often causes the smaller secondary channels to dry out. At the beginning of February, the water level was partly 60 cm below sea level, thus ensuring that the well-known Venetian gondolas lay on the ground. Little rain and the "Super-Blue-Bloodmoon" contribute to the low water level in Venice.
Just as in the Rhineland and many other regions around the world, carnival is also celebrated in Venice. Traditionally this begins 10 days before Ash- Wednesday (usually in February) and ends during Lent. Already in the 13th century AD there is evidence that carnival activities with costumes were held in Venice.
Generally speaking, the region around Venice (Veneto) is considered to be particularly prosperous compared to southern Italian provinces. This is not least due to the structural change that took place in the last century: Veneto changed from an agricultural area to an industrial region. In spite of all this, numerous agricultural fields can still be identified on the satellite image by their characteristic "patchwork"-structure in the northwest of the metropolis Venice.
Contains modified Copernicus Sentinel data (2017-2018)/ESA – created by mundialis
More satellite pictures can be found here: https://maps.mundialis.de
The world turns into art: https://art.mundialis.de