Satellite image of the month – August – Vesuvius
---
Vesuvius at the Gulf of Naples in Italy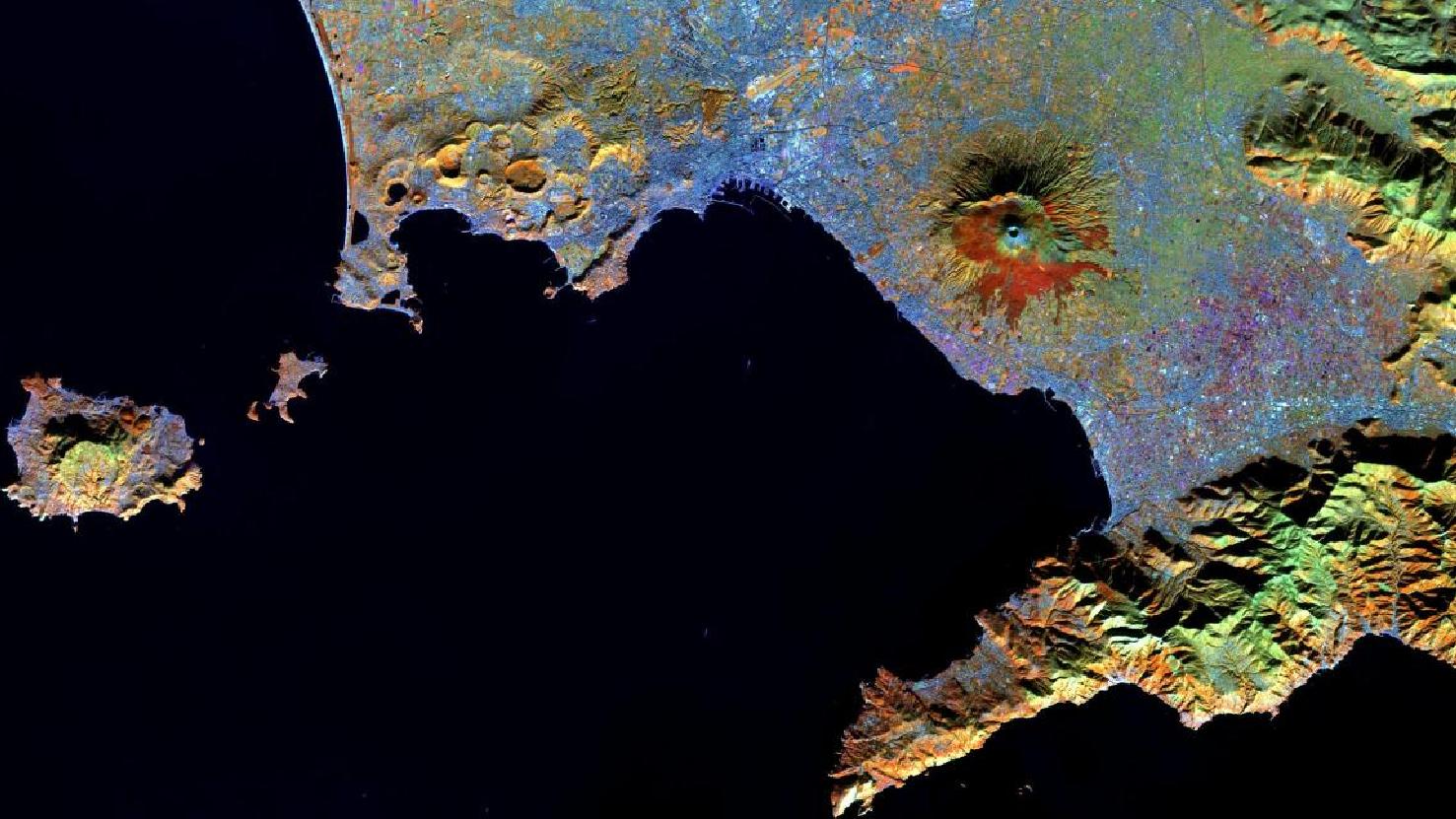 The satellite image of the month of August shows the Italian coastal city of Naples with the still active volcano Vesuvius in the center, using a land-water composition. The image was created from various bands based on Sentinel 2A data of the EU Copernicus program and provides a spatial resolution of ten meters.
After the download the scene was atmospheric corrected with free software and a color composition was calculated with three different bands
The Italian city of Naples is famous for its active volcano "Vesuvius", which is about nine kilometers away from it. On the satellite image, Naples can be identified by its blue color in the upper half of the image. The harbor in the Gulf of Naples is also easily recognizable.
Vesuvius lastly broke out in 1944, evacuating 12,000 people.
One of the worst outbreaks is the catastrophe of AD 79. In this outbreak, it is estimated that about 16,000 people died, at least 2,000 of them in the ancient city of Pompeii. Numerous tragic eruptions of Vesuvius followed.
The former Pompeii is located in the south of Vesuvius and north of the mountainous landmark (Amalfi Coast) on the satellite image and is a well-known archaeological excavation site. In contrast to other ancient settlements that fell victim to Vesuvius, it was possible in Pompeii to fill cavities, which the deceased had left behind in the cooled rock, with plaster.
Today, about three million people settle in the danger zone of Mount Vesuvius, including Naples as a major city.
Also visible on the satellite image coloured in orange, are the so-called Phlegraean Fields ("Campi Flegrei") in the west of Naples. The 150 square kilometer site is an active underground volcano, in the center of which is the 80,000 inhabitants city of Pozzuoli. Since 2005 it has been observed, that the ground rises several centimeters above the volcano every year – a clear sign of the rising magma in the subsoil.
The large island in the west called "Ischia" is popular with tourists and also of volcanic origin.
The highest mountain is the "Monte Epomeo" with 789 m. The island is well-known for its outstanding variety of species and the warm climate that occurs during the summer months.
Contains modified Copernicus Sentinel data (2016)/ESA – created by mundialis
Weitere Satellitenbilder gibt es unter https://maps.mundialis.de
Die Erde als Kunstwerk: https://art.mundialis.de