Satellite image of the month – February 2017 – Swiss Alps
---
Urner and Glarner Alps in Switzerland, taken by Sentinel-2A satellite on May 5th 2016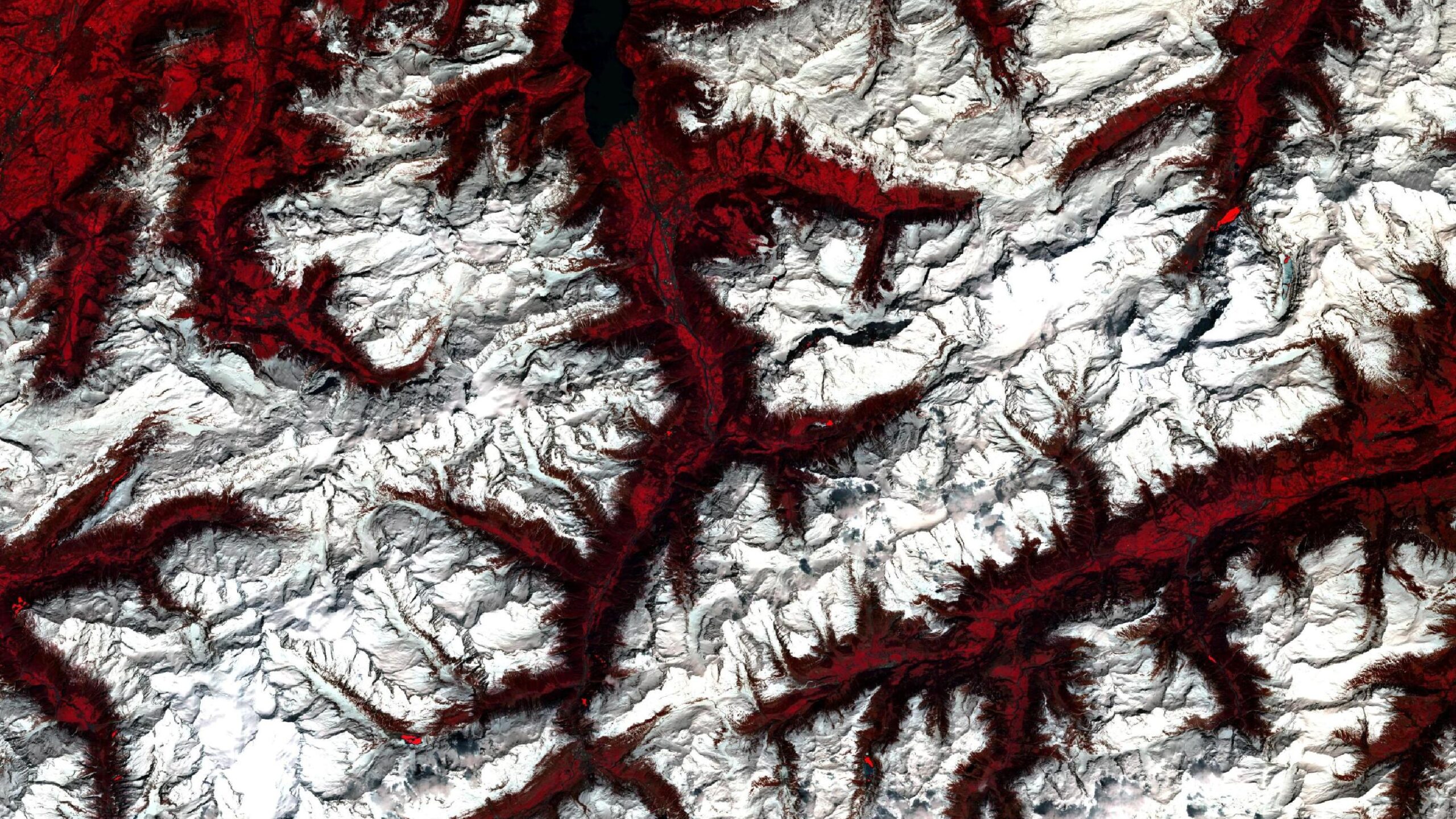 This image shows a color infrared composite of the border of the Urner and Glarner Alps in Switzerland. The image was composed of different bands based on Sentinel-2A data of the EU Copernicus Programme. The band combination used here is designated to recognize vegetation and provides a spatial resolution of 10 meters. Healthy vegetation appears in vibrant red while older plants are painted in darker or paler shades of red. Water is displayed in dark blue to black while cities are colored in light gray and brown.
With the help of the infrared falsecolor composite it is easy to distinguish between snow covered mountain peaks and exposed valleys. The valleys which appear red are covered by woods and fields. In every valley it is possible to recognize croplands in brighter shades of red which are traversed from streets in black and grey and are free of vegetation. Rivers stand out in a similar way as well and little villages appear as grey spots.
In the middle of the image in the very south the lake Tomasee is located. It is recognized as the source of the Rhine but can't be distinguished from its surroundings because it is covered by snow. From here the Anterior Rhine flows through Surselva (Rhaeto Romanic for "above the forest") which is a valley and can be seen in the southeast of the image in shades of red.
In the west of the lake Tomasee the river Reuss flows from south to north and will become the fourth largest river in Switzerland. It originates in the Gotthard massif which can be seen in the southern part of the image. Its valley shapes the center of the image colored in red. The Reuss flows through Andernmatt, visible as a grey spot in the south and further north through Göschenen where the Gotthard Tunnel and the Gotthard Road Tunnel lead southwards into the mountains. The Gotthard Road Tunnel has a length of 16.9 km and is the fourth longest road tunnel in the world.
Following the river Reuss up north, one reaches Erstfeld, where the Gotthard Base Tunnel begins. It is with 57 km the longest railway tunnel in the world.
In the north of the image the river Reuss flows through the Lake Lucerne, which can be seen in black in the north of the image. In German it is called Vierwaldstättersee, which means "Lake of the four forest settlements". This is because of the four adjoining cantons Uri, Schwyz, Unterwalden (today Nid- and Obwalden) and Luzern. It emerged in the ice ages by erosion of the Reuss glacier.
The highest peaks in the image are the Sustenhorn (3.503m) in the west of the Reuss in the Urner Alps and the Oberalpstock (3.328m) in the east of the Reuss in the Glarner Alps. In the very southwest of the image a part of the Berner Alps is represented as well with the Ritzlihorn (3.282m).
Contains modified Copernicus Sentinel data (2016)/ESA – created by mundialis
To see more maps, visit: https://maps.mundialis.de
To enjoy Earth as Art, visit: https://art.mundialis.de