Satellite image of the Month – June – Guelb er Richat (Eye of Africa)
---
Guelb er Richat (Eye of Africa) in the Sahara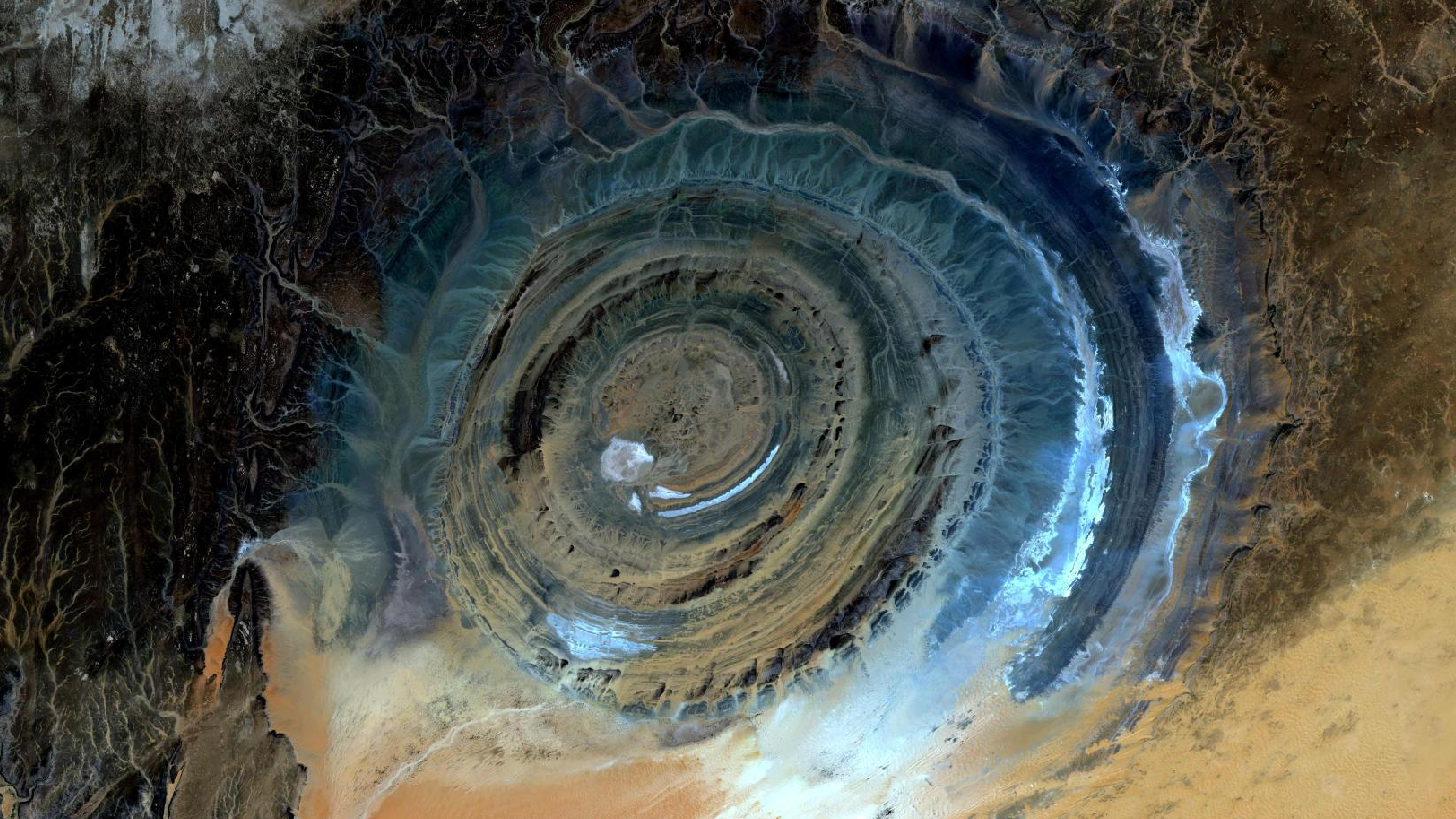 The satellite image of the month of June shows a composition in real colors of "Guelb er Richat" or "Eye of Africa", ​​recorded in the mauretanian Sahara of Westafrica. The image was created from various bands based on Sentinel 2A data of the EU Copernicus program and provides a spatial resolution of ten meters.
After the download the scene was atmospheric corrected with free software and a color composition was calculated with three different bands.
The strikingly circular structure of the Guelb er Richat is located in the Mauritanian province of Adrar and about 30 km northeast of the city of Oudane. The province of Adrar is one of the most sparsely populated regions in Mauritania, with about 70,000 inhabitants. It is to a large extent covered with desert and mountains, so only a gravel road from the city of Ouadane leads through a deserted region to the "Eye of Africa".
The entire geological structure of the Guelb er Richat has a diameter of about 45 kilometers and consists of several sedimentary rocks, which are only several meters high.
Inside the formation is a 20-meter-wide ring dam, which is located about three kilometers from the center of the Richat structure. The outer ring dam is about 50 m wide and 7 to 8 km from the center. In sum, the Richat structure consists of 32 carbonatite dikes and sills, which are typically about 300 meters long and one to four meters wide.
The carbonatite rock is estimated to be about 95 to 105 million years old.
The origin of this extraordinary geological structure is not uncontroversial: Until some time ago, Geologists suspected an asteroid impact, due to the almost perfect circular formation. Meanwhile scientists agreed, that Guelb er Richat is a s highly symmetrical and deeply eroded geological "dome", that arose from the elevation of different strata of the earth. The theory of a meteorite crater could not be confirmed, since there was no evidence for extraterrestrial impacts after laboratory evaluations.
Contains modified Copernicus Sentinel data (2016)/ESA – created by mundialis
More satellite pictures can be found here: https://maps.mundialis.de
The world turns into art: https://art.mundialis.de