We provide the map services (WMS) presented on this page free of charge. You can embed the services as a background layer in your application for free, but ask that you do not cache or overuse the services themselves. If you want to operate these services yourself, we are happy to offer you the complete installation of the software stack including data and display rules on your server. Also, if you have any questions or are interested in modifying any of our services, please contact us.
Note: We do not guarantee permanent availability or fail-safety for these services. Of course we do our best and keep the services running, but there may be occasional technical bottlenecks and performance degradation.
The service URL for all our services is:
http://ows.mundialis.de/services/service?
Topographic Web Map Services
Layer Name: TOPO-WMS
This service shows the topography of the world. The service has a global spatial resolution of 450m and is based on SRTM (Shuttle Radar Topography Mission) data. Only for Germany ASTER data with a resolution of 30m were used. The data are colored according to their height. The SLD scheme of the OGC makes it possible to describe a "ColorMap" (color map) and to specify the service to display certain height values or to render them in color. The display consists of twelve color levels. In addition to topography, bathymetry (deep-sea measurements) of the world's oceans and of the Great Lakes in the United States has been included.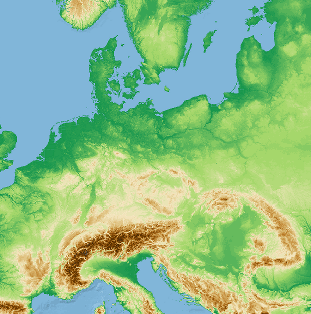 The Web Map Service (WMS) is published by the GeoServer software and cached by the MapProxy software.
As an additional service we offer to use higher resolution data for your region as well or to adjust the color style individually according to your ideas.
Quote: Contains modified SRTM data (2014)/NASA, processed by mundialis
Topographic OSM WMS
Layer Name: TOPO-OSM-WMS
This service is a combination of the TOPO WMS described above and a new service from our partner company terrestris – the "OSM Overlay WMS". The overlay shows cities, streets and municipalities from OpenStreetMap data. Since this is only an overlay, it is also possible to overlay this layer on top of other layers (for example, using the TOPO-Web map service).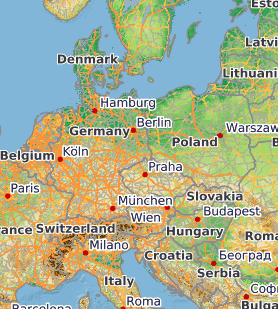 We would like to point out that you must indicate the origin of the data from the OpenStreetMap project by means of a copyright notice when using this service. The hint should look like this:
© OpenStreetMap Contributors with link to http://www.openstreetmap.org/copyright
We also offer additional services for this service.