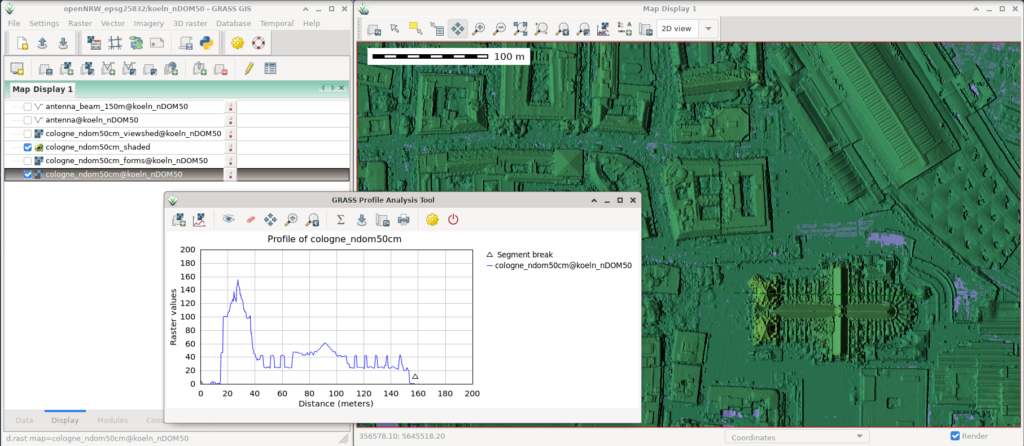 GRASS GIS is a software suite for spatial data management and analysis, image processing, graphics and map creation, spatial modeling and visualization. We use it to process remote sensing data and extract information from the data. We also work on the further development of GRASS GIS and offer training.
Our offers
Workflow optimization
We analyze and optimize your existing workflows (also under NDA) and identify potential improvements in collaboration with you. We show you that innovative open source solutions can increase your business!
Addon development
The functionality of GRASS GIS can be easily extended by add-ons. Special functions can be encapsulated in them, for example, to fully automate processes. We have plenty of experience and are happy to develop addons that solve your specific problems.
Technical support and maintenance services
As specialists in geographical issues, we employ various core developers from the GRASS GIS team at mundialis, which is why we can offer you first-class support. Our maintenance contracts are flexible – you can choose from single hours to multi-year framework agreements and different service level agreements (SLA).
Docker Images
In order to be able to exploit the possibilities of virtualization, especially in the cloud, we provide special Docker images with GRASS GIS and further OSGeo software.
Trainings
Since all software is available under free software licenses and thus the source code is freely accessible, we are happy to pass on our knowledge in the form of in-house training courses. Contact us for a quote.