Team
---
The team of mundialis unites long-standing expertise in open source development with fresh scientific know-how and solid economic project management. With four women and four men at remarkable age, language and competence range is covered at the same time: from 25 to 51 – from German to English, Spanish, Italian, French, Arabic to Japanese – and from ajax, GIS, Sentinel to XPlanung.
Some of us have major experience in creating webbased applications for spatial data. Others collected great knowledge in processing remote sensing data over the years. The whole team consists of convinced users and developers of open source software and are well-known in the communities behind the projects we use and develop. As publishing geodata online while applying OGC Standards and processing remote sensing data was our daily bread for a long time, we saw a gap in between that needs to be filled.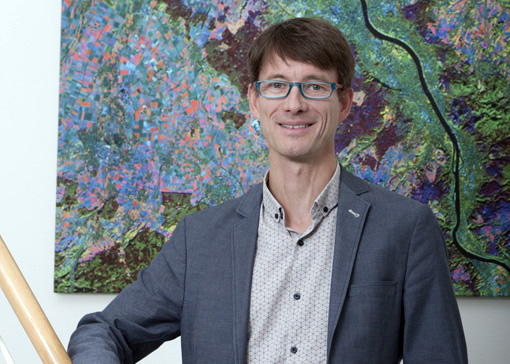 name:
Markus Neteler
title:
Dr. rer. nat.
experience:
Markus joined mundialis in January 2016 as partner and general manager in order to make his dream about putting research into practice come true. He spent 15 years in academia in Germany and Italy at three different research institutions. For the past 8 years he was head of a well-known and leading "GIS and Remote Sensing" work group in Trento, Italy. Markus has a strong and long-term Open Source background. He is a founding-member of FOSSGIS.de (D-A-CH), GFOSS.it (Italy), and the Open Source Geospatial Foundation (OSGeo.org). He is also author of several books and chapters on GRASS GIS and various papers on GIS applications. Being passionate about Open Source GIS, he became a GRASS GIS user in 1993 and a developer in 1997, and he has coordinated its development as the Project Steering Committee (PSC) chairman since then.
At mundialis he is working on innovative applications using data from the Copernicus program as well as from other sources that are offering incredible new possibilities for exciting remote sensing applications.
Contact:
email: neteler AT mundialis.de
See also: Personal page of Markus
---
name:
Till Adams
title:
Dipl.-Geogr.
experience:
Till is partner and general manager of mundialis and took the same role more than 13 years ago for terrestris, where he worked a lot in setting up web based GIS applications. Till actively works with FOSS4G Software for more than a decade now and extends mundialis expertise through his experience, connections and knowledge. Till made his first efforts with GIS with early GRASS versions before he switched to being technical architect of Open Source WebGIS applications. With mundialis he feels somehow coming back to his roots working with the real raster stuff and connecting that to his core skills in web based applications.
Till is Open Source enthusiast and with that, he was one of the founders of the German language FOSSGIS conference series and joined his first OSGeo Conference in Minneapolis in 2005 before it was even called FOSS4G. Till also put a lot of effort into building the local, regional and global community and helped form FOSSGIS e.V., the legal body of the German language OSGeo Local Chapter which he also co-chairs. Saying this, Till took the chair of FOSS4G 2016 taking place in his home city Bonn.
---
| | |
| --- | --- |
| name: | Hinrich Paulsen |
| title: | Dipl.-Geogr. |
| experience: | Hinrich is also partner and general manager at mundialis. Directly after finishing his degree of Geography, Geology and Soil-Science at Bonn University he founded the company terrestris together with Till in 2002 and helped to focus company efforts on the Free and Open Source Software for Geospatial community right from the start. Feeling very much at home in this special niche he has worked in business development and has ample experience in this line of business. This knowledge also helped to found mundialis which aims to make access to the abundant remote sensing data even easier also for people who do not have a background in remote sensing or geoinformatics. Hinrich is very excited to be working on developing business for mundialis at a time when the world is being inundated by first class remote sensing data from a wide variety of sources. |
---
| | |
| --- | --- |
| Name: | Hajar Benelcadi |
| Titel: | Dr. |
| experience: | Hajar joined mundialis in August 2017 as data analyst and project manager. Her expertise comprises Synthetic Aperture RADAR (SAR) and optical images processing and analysis for forest monitoring, agroforestry and land cover/land use sectors. During the last 5 years, her analysis included several and different tropical forest ecosystems in Cameroon, Gabon, Brazil, Peru and Cambodia. Hajar worked in the context of REDD+, forest concessions and forest conservation projects. Along with SAR and optical imagery analysis, she was involved in the field of quality and accuracy assessment of forest maps in the Congo basin in the context of REDD+. She has an experience with field data collection in tropical forest concession and participated in several technical and thematic conferences. Currently she is exploring the potential of Sentinel-1 data and developing projects ideas bridging remote sensing techniques and technology with concrete local and global applications. |
---
| | |
| --- | --- |
| name: | Carmen Tawalika |
| title: | BSc Geography |
| experience: | Carmen finished her studies in geography just before mundialis was founded. During her studies she learned about spatial data and the matching software. While always keeping these in mind, she is a passionate geographer and likes every chapter of it and also loves traveling the world. Besides teaching remote sensing to other students and writing her bachelor thesis about a German spatial data exchange format, she is an open source devotee and happy to take part in the FOSS4G 2016 organization team. She started working in a GIS company two years ago as a student and didn't stop ever since. |
---
| | |
| --- | --- |
| name: | Susanne Meyer |
| title: | BA Business Psychology |
| experience: | Susanne worked for three years as an assistant in the corporate customer business in a regional bank after her training as a bank clerk. She graduated in Business Psychology and then she collected more than three years of experience in the event and organization management. Prior to working in sales and marketing at mundialis, she was an executive secretary at the Bonn-based company terrestris GmbH & Co. KG. |
---
name:
Jan Orzekowsky
experience:
Jan studied Computer Science at TH Köln – University of Applied
Sciences. He worked for three years as system administrator at
terrestris GmbH & Co. KG before he joined mundialis.
---
| | |
| --- | --- |
| name: | Charlotte Eberz |
| experience: | Charlotte studies Geography at the Institute of Geography at University of Bonn. Prior to joining mundialis, Charlotte supported the organizing team during the FOSS4G 2016 in Bonn. |
---
| | |
| --- | --- |
| name: | Stefan Cerfontaine |
| experience: | After his training as a graphic designer and graduate communications specialist, Stefan worked as a graphic designer in various advertising agencies in Germany and Great Britain since 1994 in the areas of layout, final artwork, image editing, customer service and production management. He gained a lot of experience in the design and production of various advertising media from business cards to ship banners. Stefan is a team player, very careful and experienced in all current graphic and office programs. In 2016, he added to this by acquiring the qualification as a qualified instructor and completing his studies as a state-certified designer. In mundialis Stefan is the contact person for graphics and image editing. |
Alle Mitarbeiter-Fotos ©Jo Hempel
---