Madrid – Spain, recorded by the Sentinel-2A satellite on January 11, 2021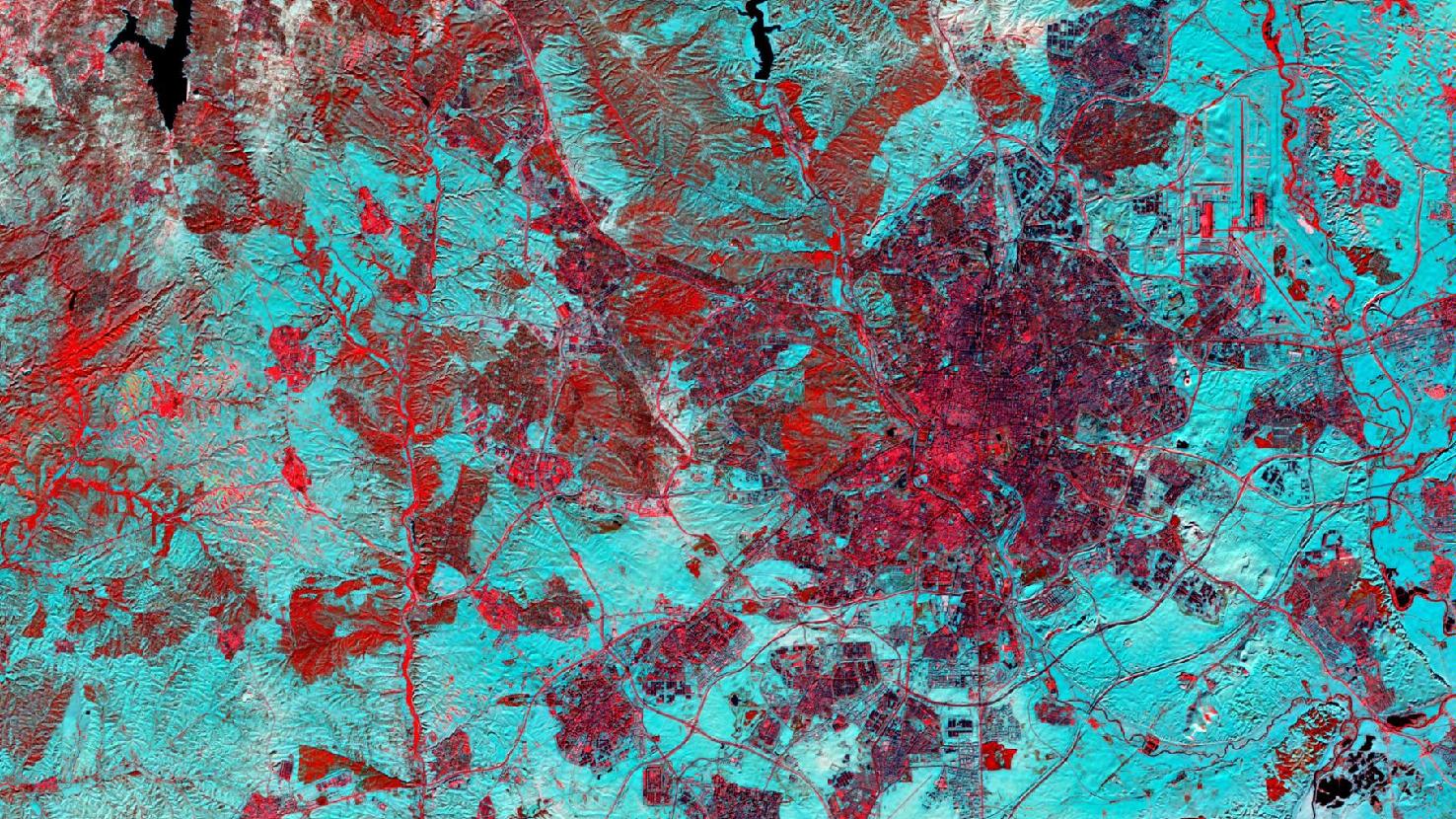 The satellite image of the month March shows Madrid with snow. The image was created from different bands based on Sentinel-2A data of the EU Copernicus Programme and provides a spatial resolution of 20 m. After downloading the scene, an atmospheric correction was carried out using free software, and a color composite was calculated using three different spectral bands. For this false color composite, the three channels short-wave infrared, visible and near infrared, and visible red were used. Ground and cities appear in shades of red and pink, water in dark blue to black, and snow and ice in dynamic blue.
The city of Madrid is located in the right half of the image. With about 3.3 million inhabitants, it is the second largest city in the European Union after Berlin. The Madrid metropolitan region (with suburbs) has a population of about 7 million inhabitants and is thus ranging among the largest metropolitan areas in Europe.
In January 2021, the storm Filomena caused an immense snow chaos in Spain's capital. The satellite image shows the extent of snow (in turquoise) on January 11, 2021, Monday after the snowy weekend. With temperatures reaching double digits below zero, it snowed for more than 30 hours, and the snow cover was more than 60 cm thick in some places.
Due to the snow, air, rail and bus services were temporarily suspended. Although many highways and country roads were closed, more than 1,500 people were stuck in their cars for many hours. In the satellite image, the cleared roads are easily detectable as red bands in the snow. Also at the airport in the northeast of the city cleared operational areas (runways, etc.) and snow-covered surroundings are clearly distinguishable.
In addition to the traffic chaos, the high snow cover also caused school closings and stalling of food supplies to supermarkets. On the other hand, many Madrid residents enjoyed the white weekend, engaging in boisterous snowball fights or taking to the streets on skis and sleds.
Storm Filomena also brought snowfall and storm to numerous other provinces in Spain. In the province of León, about 400 km north of Madrid, an all-time low of -35.8 degrees Celsius was recorded, the lowest temperature ever recorded in Spain. Although relatively cold winters are not uncommon in Madrid due to its continental location about 650 m above sea level, comparable temperatures and snowfalls have only been experienced in 1984 and 1971.
Contains modified Copernicus Sentinel data (2021)/ESA – created by mundialis
More satellite images can be found here: https://maps.mundialis.de